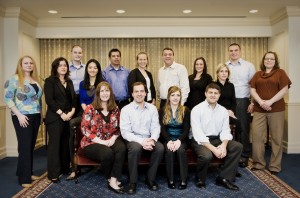 By Gina Passarella and Zack Needles of the The Legal Intelligencer:
Joseph R. Condo, former chair of Woodcock Washburn's patent procurement services group, and Vincent J. Roccia, former transactions operations manager at the firm, left the firm to open Condo Roccia Koptiw in May.
Their practices focus on acquiring and analyzing patent portfolios, particularly for clients in the electrical, computer and mechanical industries.
They brought with them six patent procurement associates from Woodcock Washburn's Philadelphia headquarters.
Michael Koptiw, Lori Anne Swanson, Stuart Schanbacher, Michael Jordan, Michael Ghobrial and Joseph Klinicki all joined the firm as associates.
Condo said he and Roccia decided to start their own firm because the big-firm model was "not nimble enough" for their practice.
"Bigger [IP] firms are built on a business model that is primarily fueled by and reliant upon litigation and, as a result, have developed infrastructure and overhead that is too expensive" to allow for cost-effective patent procurement and analysis, Condo said.
While patent prosecution may not be the main focus of every IP firm, the Condo Roccia Koptiw team was said to have taken with it a good amount of work.
Additional information may be found here.
At Condo Roccia Koptiw, we create value for our clients through intellectual property.
Back to News