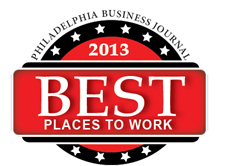 Philadelphia Business Journal has named Condo Roccia Koptiw LLP one of its Best Places to Work in the Philadelphia region. The award recognizes the company's achievements in creating a positive work environment that attracts and retains employees through a combination of benefits, working conditions, and company culture.
The Philadelphia-based law firm was one of hundreds to enter, securing its position on this prestigious list based on the strength of its benefits and programs, as evaluated by its employees.
"We entered the award program," said Michael Ghobrial, "because we think that our culture is unique in that we empower our people to take ownership in everything they do and encourage creativity in our problem-solving.  As a result, we have a highly skilled, energized, and responsive team that is always pushing to be greater.  The firm is very proud of its employees, and we're proud to be a winner of this award."
Fifty companies will be honored at an open-to-the-public awards program on Wednesday, September 18, 4:30pm – 7:30pm at the Wells Fargo Center, where top winners per category will be revealed for the very first time. PBJ's Small Business Expo will take place on the same day from 2:00pm – 6:00pm. Program is sponsored by Comcast Spectacor, Mars Philadelphia, MidAtlantic Employers' Association and Quantum Workplace.
Philadelphia Business Journal's research partner, Quantum Workplace, tabulated the results of thousands of online surveys completed by employees to establish the rank order. Common themes among top companies focused on work-life balance; respect and caring for employees; recognition of accomplishments; feeling empowered; good teamwork and commitment to community.
Additional information may be found here.
At Condo Roccia Koptiw, we create value for our clients through intellectual property.
Back to News